This engine has been specifically developed for installation in motor cruisers, heavy duty commercial fishing boats, launches and barges where an engine is required with high torque at low r.p.m. Based on the Ford/Iveco 7.5 litre engine, this Beta engine will operate very smoothly over the speed range. Competitive prices and very low fuel consumption make them excellent value for money.
STANDARD SPECIFICATIONS
Heat exchanger cooled diesel engine with header tank, indirect injection, naturally aspirated, based on Kubota.
Smooth running with multi-cylinder and high inertia flywheel.
Water cooled exhaust manifold.
Fresh and sea water pumps
Three vortex combustion for quiet running, low emissions and excellent fuel consumption
12 volt electric starting with 40 amp battery charging alternator.
Heater plugs for cold start below 5°C.
Control Panel type ABV as standard with 3 metre interconnection cable and multi pin plug and socket.
GRP base for "glassing" into the hull and flexible engine mountings.
Engine with heat exchanger and header tank
Fuel filter and mechanical fuel lift pump.
Lubricating oil filter and sump drain pump.
Saildrive 2.2 : 1 reduction
Morse type cable support and end fittings for engine speed and gearbox control.
Engine test certificate and operators manual.
OPTIONS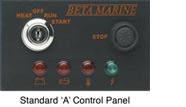 Deluxe C Control panel
65 amp alternator (in lieu of 40 amp).
2 blade folding propeller.
| | | | |
| --- | --- | --- | --- |
| | | | |